CARRIER-BORNE ANTI-SUBMARINE PATROL/ AEW AIRCRAFT
A series of futureless prototypes were built, to finally give way to the Alizé
In 1947 the French Navy started its naval attack plane program, and the following year Breguet received an order for two prototypes. On August 3rd 1951, the Br-960 Vultur took-off from Toulouse-Blagnac. This twin seater had an uncommon propulsion system: an Armstrong Siddeley Mamba 980hp turboprop allowing 9 hours of patrol time thanks its low fuel consumption, and a Hispano Nene 2 270kgp jet engine.

| | | |
| --- | --- | --- |
| | With this configuration, the Vultur had a top speed of 850 km/h. But thanks to its advanced system of flaps, its carrier landing speed was only of 155km/h. In spite of very successful tests, the Vultur never went beyond the prototype phase, in part because of the lack of aircraft carrier to operate it. | |
The second prototype, slightly different, was powered by Mamba 3 (1 650hp) and Nene 104 engines. It was designated Br-965, and first flew on September 15th 1952. Because of its hybrid turboprop/jet engine configuration, the program was rapidly given up. Indeed most new fighter and attack planes were jets. Furthermore, naval strategy had changed a lot in favor of the hunter-killer concept (like the TBM-3W Avenger patrol plane working for TBM-3S ASW planes). Yet the Vultur had a very satisfying airframe, and it was adapted for ASW and over the horizon airborne warning missions. The plane was now called Epaulard (former name for the Alizé).

Three prototypes (n°01, 02 and 03) and two pre-production aircraft (n°04 and 05)were built. The first prototype (n°01 powered by a Rolls-Royce Dart Rda 7 Mk.20 1 600p engine) first flew on October 5th 1956 with Yves Brunaud, Lascarret and Perrineau in the cockpit. N°02 made its first flight December 22nd .
Both prototypes carried the American APS-33 radar. The final prototype flew on April 19th 1957.
The initial engine, a Dart Mk.20 was replaced by a 1 950 Mk.21. Simulated carrier operations were held at Bedford, England, in 1957, and then aboard H.M.S. Eagle in the Mediterranean, the Arromanches being in dry docks for an IPER (Planned Unavailability for Repairs and Maintenance) session. These tests will end aboard the French carrier only (December 3-5 1958). For its use on board aircraft carriers, the plane's wings can be folded, bringing the wingspan from 15.6 to 7m. Tests showed that the plane could perform landings with wind ranging from 45 knots upwind to 5 knots downwind (the Alizé is the Aéronautique Navale's plane with the slowest landing speed). Furthermore, the plane can be launched whatever the ship's route and speed, as long as the wind does not exceed 15 knots. The Alizé could also take-off without the help of a catapult, using the whole length of the Clemenceau class carriers, with a 30-knot downwind and a MTOW of 7 tons (this was done, among other times, during the Gulf War, when the Clemenceau's catapults were not available.)

| | |
| --- | --- |
| The two pre-production planes made their maiden flights on June 21st 1957 (n°04) and August 1st 1958 (n°5). The first production aircraft was delivered March 20th 1959, and the last one in June 1961. Initially, 100 aircraft were planned, but eventually the order was cut to 75 planes in 1958 (a first batch of 50 and a second batch of 25). Production aircraft were also equipped fitted with the Thomson-CSF DRAA-2B retractable radar, instead of the APS-33, right behind the weapons bay. The plane had a crew of 4: 1 pilot, 1 navigator and 1 or 2 radar operators. | |
A classical Alizé mission would last 4 hours, meaning the plane had to carry 2000 litres of fuel, for a 500 litres per hour consumption rate. After each of these missions (during which the airframe was limited to 3.5Gs) the plane required 30 hours of maintenance (including major operations). To help fight salt-water corrosion, the plane was thoroughly washed, every 3 weeks at sea and 6 weeks when land based. Thirty airframes (No.10, 12, 13, 16, 17, 18, 19, 25, 26, 28, 29, 31, 32, 33, 36, 37, 39, 40, 41, 42, 43, 44, 48, 49, 60, 61, 64, 72, 74, 76) were overhauled in 1964-65 and received the following equipment:
Jezebel sonobuoy system.
Mk.43 torpedo.
AS-12 anti-shipping missile.
In November 1974, the French Navy decided it would use the Alizé until 1990, and a vast upgrading program was launched at the Cuers-Pierrefeu aviation workshops in 1978, and ended in 1983. The 28 airframes involved (No.11, 12, 22, 24, 25, 28, 31, 34, 36, 41, 42, 47, 48, 49, 50, 51, 52, 53, 55, 56, 59, 60, 64, 65, 73, 76, 80, 87), were designated ALM (ALizé Modernisé / Modernized Alizé), and were fitted the following equipment :

Thomson-CSF DRAA-10A Iguane radar.
ARAR-12A RWR.
ARR-52 sonobuoy system.
Omega Equinoxe navigation system.

In 1989, after the Olifant missions over Lebanon , the aircraft's self-protection equipment was enhanced with a new kind of RAM (Radar Absorbing Material) paint and various avionics improvements (hydraulics circuit, power generator, UHF/VHF…). All 27 remaining airframes received the modifications. The last major upgrade took place in 1996-97, again at Cuers-Pierrefeu, and concerned 15 planes (former ALMs) which were now called ALH (ALizé mis à Hauteur / Upgraded Alizé). They received a new automatic pilot, new heading system and ESM.
Career within French Naval Aviation Units
Alizé squadrons color codes (on the extremities of the wings)
The first one: 6.F Squadron
The first squadron to field the Alizé is 6.F; it received its first planes on October 6th 1959 at NAS Hyères, to replace the old TBM Avengers. During the following two years it received no less than 45 planes, with which it spent 4.000 hours training 28 pilots and 50+ navigators and radar operators before their assignment to squadrons 4.F and 9.F. The squadron moved to NAS Nîmes-Garons and lost its role as Operational Conversion Unit (OCU) and became an Operational Training Unit (OUT), organizing two training sessions each year. During one such session, on March 11th 1964, Alizé No.129 crashed north of Nîmes, killing its crew (EV1 Renvoise, Asp Pillard and MT Salaun). On December 3rd 1969, Alizé No.38 crashed, killing PM Magurno and PM Guyavarch. In January 1967 the squadron celebrated its 30.000 flight hours, the 50.000 hours mark being passed on January 13th 1972. The squadron left for the Indian Ocean on the Foch for the Saphir II mission, from June 3rd to December 10th 1977. On April 16th 1979, the squadron suffered other losses, when Alizé No.37 crashed, killing EV1 Basset and PM Delas.

| | |
| --- | --- |
| 6.F squadron received its first ALM on July 17th 1981. From September 7th to 18th, and from September 23rd to October 7th , the Alizés were stationed on the Foch, for surveillance missions off Lebanon (missions Olifan IV and VI). The everlasting duo Foch-6.F set sail once again in May and September 1983 for the Lebanese coast for missions Olifan XVII and XVIII. In 1985, the squadron celebrated its 90.000 flight hours. 6.F squadron was sent with the Clemenceau to the Persian Gulf from October 25th 1987 to July 10th 1988, to calm the situation down (Operation Prométhée). On May 1st 1989, an Alizé from 6.F made the 50.000th landing on the Foch. | |
From August to September 1989, Alizés are once again stationed on the Foch, headed for Lebanon for Operation Caspelle. In February1990, the Alizé fleet is grounded, after the discovery on aircraft n°31 of bendings. On November 20th, two planes from the Foch suffer an in-flight collision; one manages to land at Nice, but the other one ditches in the Mediteranean between Corsica and Menton, the crew is uninjured. In 1991, squadron 6.F participated to exercise Sardinia 91, during which the Alizé fired its last salvo of rockets. From January 28th to March 15th 1993, the Alizés go onboard the Clemenceau, headed for the Adriatic Sea and Operation Balbuzard I, followed by a second detachment, on the Foch, from March 29th to April 24th, and Operation Balbuzard II. In March 1994, Alizé No.48 parked on the forward deck of the Foch, almost fell overboard. On November 2nd, Alizé No.64 suffered an engine shut down and was forced to land dead stick. From December 6th to 23rd, the Alizé set sail for another cruise in the Adriatic Sea. From February 6th to March 10th, 6.F squadron was deployed on the Foch for operations Balbuzard XII, and from April 25th to May 24th for Balbuzard XIII. From May 28th to July 18th, the Alizé returned to the Yugoslavian coasts. From November 22nd to December 17th, new cruise on the Clemenceau. On December 14th, Alizé No.36 sank after the engine stopped in flight, but the crew was uninjured. On December 20th the Clémenceau took the sea, once again towards ex-Yugoslavia for operation Salamandre I until January 5th 1996. It was followed by operations Salamandre II and III in January and March 1996.

| | | |
| --- | --- | --- |
| | On July 16th, the squadron received its first ALH (No.59). On January 12th 1998, Alizé No.64 was lost when its pilot (EV Gruzinski) attempted a emergency landing on a highway. From September 21st to November 12th, the crews and the planes returned on the Foch for operation Trident off the coasts of ex-Yugoslavia. 6.F squadron was awarded the "Golden Tailhook" and broke the 170 000 hours mark since its creation, and the 126 000 hours mark on Alizé. From January 21st to June 4th 1999, the squadron was deployed for a new Trident mission. It received a new Golden Tailhook in September. During the Pean'99 exercise, the squadron celebrated on the Foch the 40th anniversary of the Alizé, as well as the 74 000th landing on the carrier. | |
From January 15th to April 30th 2000, the squadron went aboard the Foch for the carrier's last cruise, operation Myrrhe 2000. It was detached a last time on the Foch in June, for the ships last sortie. On September 15th 2000, day the squadron was deactivated, three Alizés (No.56, 50 and 49) made a last flight, donning shark teeth.

The other squadrons: 4.F and 9.F
The first planes were delivered to squadron 4F in February 1960, once again as replacements for the TBM Avengers, also at NAS Hyères. The squadron moved to its new base in Brittany, Lann-Bihoué in 1964, and became the main ASW unit of the 2nd French Maritime Region. In June 1964, 2 Alizés were tasked with covering the evacuation of Algiers. In early 1965, squadron 4.F participated to manoeuvres with the Spanish Navy. The 35 000 hours mark is passed in January 1970. The Alizés went aboard the Foch in February, and aboard the Arromanches in March, for an exercise in the Mediteranean Sea. From April to June, squadron 4.F was on the Clemenceau. From October 1974 to March 1975, 5 Alizés based on the Clemenceau participated to mission Saphir I, and then went on with Saphir II from June 6th to December 10th 1977. Squadron 4.F received its first ALMs in 1982, which were immediately sent to Lebanon on the Foch (missions Olifan II and IV). They returned to this theatre of operations from November 30th 1983 to January 8th 1984 (Olifan XIII and XVIII). From January 23rd to May 4th 1984, the squadron is sent for the last time to Lebanon on the Clemenceau (Olifan XX). In 1987 and 1988, just like squadron 6.F, squadron 4.F was part of mission Prométhée in the Persian Gulf. In August 1990, four ALMs went aboard the Clemenceau, which at the time had its catapults removed, to support operations in the Gulf (the Alizé is indeed the only aircraft of the Aéronautique Navale able to take-off without the help of catapults) for operation Salamandre. Further on, operations Balbuzard during 1993 and 1996 were the last missions for squadron 4.F. The squadron was indeed temporarily shut down during the summer of 1997, until the arrival on March 10th 2000 of the Grumman E-2C Hawkeye.

Squadron 9.F replaced its old TBM Avengers with Alizés in September 1960, at NAS Hyères. On March 25th 1960, LV Mosneron-Dupin performed the squadron's first landing on the Clemenceau.

| | |
| --- | --- |
| On September 6th 1962, LV Rochard made the first one on the Foch. From May 1st 1963 to August 1st 1964, the squadron was deployed in turn on the Foch and the Clemenceau. From March to December 1966, squadron 9.F went aboard the Foch, headed for the Pacific nuclear test centre. A second such cruise took place in 1968 on board the Clemenceau. Squadron 9.F moved to NAS Lann-Bihoué in 1969. In 1970, it participated to the reactivation of the Cherbourg-Maupertus Naval Air Station (NAS). After several deployments on the Arromanches, the squadron was finally disbanded on June 30th 1972. | |
Other units: 2.S, 3.S, 10.S and 59.S flights
Flights 2.S and 3.S used the plane during the 1960s and 1970s, for utility missions such as liaisons, target towing…etc.
Flight 2.S serviced up to seven Alizés, in 1971. Flight 3.S retired its planes in 1971, while 2.S abandoned its planes the following year.
10.S, the CEPA's utility flight based at NAS St-Raphaël, used pre-production planes No.01, 02, 03 and 05. On August 1st 1973, 10.S became the Support and Experiment Section, but this name was abandoned on January 27th 1987. 10.S was in charge of all modifications, upgrades and experiments on the Alizé. When NAS St-Raphaël was shut down in 1995, flight 10.S was disbanded and the CEPA was transferred to NAS Hyères.
Flight 59.S received its first Alizé in August 1972, and replaced squadron 6.F as the OUT (Operational Training Unit). On June 30th 1989 this mission was given back to squadron 6.F.
The last 8 airframes, stocked at Nîmes-Garons, still have a life time of 100 000 hours left!
This convinced Thalès Airborne Systems to buy the old warriors and convert them to a AMASCOS (Airborne MAritime Situation COntrol System) standard. This future upgrade will consist in fitting a Ocean Master radar and wiring the planes to shoot future anti-shipping missiles.
A very modest success in export : India
The Indian Navy (Squadron 310 Cobras) used the Alizé (No.62, 63, 66, 67, 71, 78, 79, 81, 82, 83, 84, 85 and No.14 and 18 coming from French Navy stocks). They operated from the carrier CV Vikrant and the Garuda land base. They saw combat with the Indian Navy in the ASW and recce coordination missions during the 1971 war between India and Pakistan.
Its main missions which evolved with the passing years were :
-Anti-submarine warfare
-Maritime situation control
-Surface surveillance
-Air-to-ground observation and guidance
-Electronic Intelligence
-Radio relay
-C-SAR airborne relay
-Sea rescue
-Maritime pollution prevention

| | | |
| --- | --- | --- |
| SPECIFICATIONS | (US) | (FR) |
| LENGTH | 45 ft 5 in | 13. 8 m |
| WINGSPAN | 51 ft 2 in | 15. 6 m |
| HEIGHT | 16 ft 5 in | 5 m |
| WING AREA | 387. 5 sq ft | 36 m² |
| WEIGHT | 12 566 lb (min)/ 18 078 lb (max) | 5 700 kg (min)/ 8 200 kg (max) |
| MAX SPEED AT SEA LEVEL | 285 mph | 459 km/ h |
| MAX SPEED AT 10,000 FT | 292 mph | 470 km/ h |
| PATROL SPEED AT 1,500 FT | 144 mph | 232 km/ h |
| CLIMB RATE | 1,380 ft/ min | 421 m/ min |
| CEILING | 20,500 ft | 6 248 m |
| ENDURANCE WITH RADOME EXTENDED AT NORMAL PATROL SPEED | 5 h 12 min | 5 h 12 min |
| ENDURANCE WITH MAX FUEL | 6 h 55 - 7 h 40 | 6 h 55 - 7 h 40 |
| RANGE | 1 349 miles | 2 500 km |
| POWER | 2 100 hp | 1 566 kW |
WEAPONS
Mines (3,160 kg).
Mk-43 ou Mk-44 torpedoes.
Six rockets (127 mm/ 5-in).
Two AS-12 ASM air-to-surface missiles.
Fourteen sonobuoys.
ELECTRONIC EQUIPMENT
A Thomson-CSF DRAA-10A "Iguane" radar.
An ARAR 12 radar detector.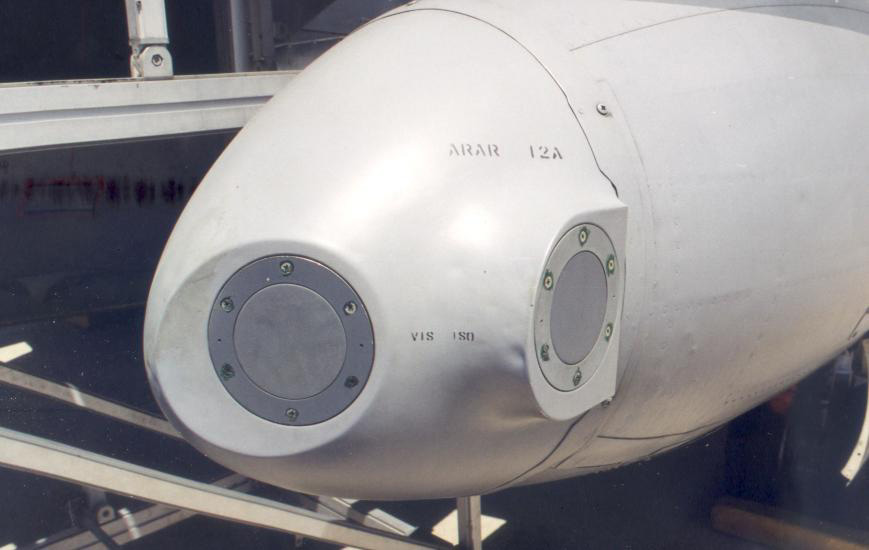 LC3 ECM (104 IR et EM) countermeasure system.
ENGINE & AUTONOMY
It was motorized with a Rolls-Royce Dart RDa7 Mk 21 turboprop of 1,950 hp. Its autonomy during patrols was almost 4 h 30 (with 2 500 l / 660 gallons of kerosen).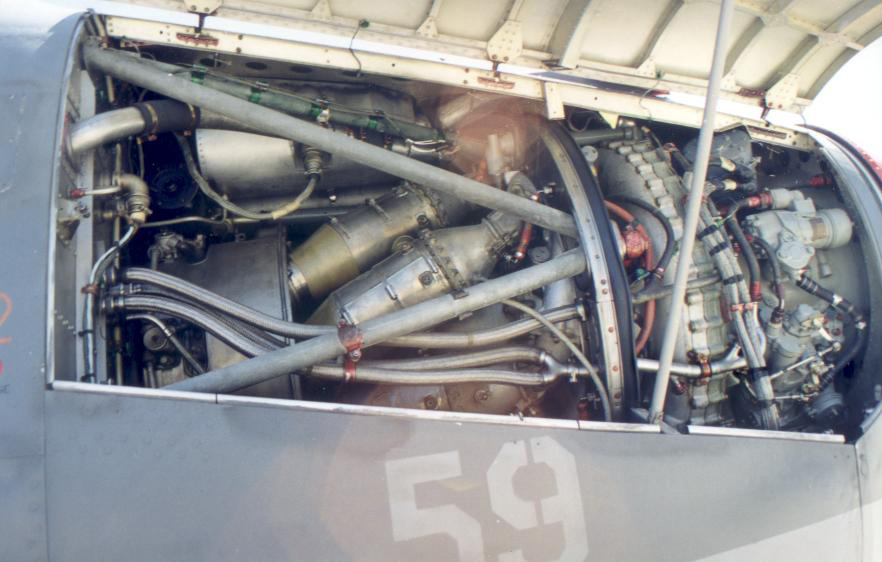 PHOTO GALLERY OF THE Br.1050 ALIZÉ.
3D Br.1050 ALIZÉ [ON "VIRTUAL FLYING CIRCUS" - PARTNER WEB SITE].
sources - acknowledgements :
SM Bourguignon
Jets n°59 - novembre 2000 par Alexandre Buonomo.
Jets n°28, 29 et 30 - avril 1998 par Michel Ledet.
"Avions Marcel Dassault Breguet Aviation - from Ouragan to Super-Mirage 4000, 30 years of combat aircraft" 1979.

[
AIRCRAFT MENU
] [
MAIN MENU
] [
HOME
]
©French Fleet Air Arm. www.ffaa.net. All rights reserved.