| | | |
| --- | --- | --- |
| CHARACTERISTICS ÉTENDARD IVM | (US) | (FR) |
| LENGTH | 47. 07 ft | 14. 35 m |
| WINGSPAN | 31. 4 ft | 9. 60 m |
| WIDTH WITH FOLDING WINGS | 25. 5 ft | 7. 80 m |
| HEIGHT | 12. 63 ft | 3. 85 m |
| WEIGHT | 13 007 lb (min)/ 23 809 lb (max) | 5 900 kg (min)/ 10 800 kg (max) |
| MAX WEIGHT FOR CATAPULTING | 23 809 lb | 10 800 kg |
| MAX WEIGHT FOR DECK LANDING | 17 196 lb | 7 800 kg |
| WING AREA | 305 ft² | 28. 40 m² |
| MAX SPEED | Mach 1,3 | Mach 1,3 |
| CLIMB RATE | 328 ft/ s | 100 m/ s |
| APPROACH SPEED AT 7.8 t | 135 kts | 135 kts |
| CEILING | 45 000 ft | 13 716 m |
| COMBAT RANGE AT LOW ALTITUDE | 323 nm | 600 km |
| FERRYING RANGE WITH ADDITIONAL TANKS | 900 nm | 1 666 km |
| CONSUMPTION AT 40,000 FT | 1 851 lb/ h | 840 kg/ h |
| THRUST | 9 920 lb | 4 500 kg |
| | | |
| --- | --- | --- |
| CHARACTERISTICS ÉTENDARD IVP | (US) | (FR) |
| LENGTH | 47. 07 ft | 14. 69 m |
| WINGSPAN | 31. 4 ft | 9. 60 m |
| WIDTH WITH FOLDING WINGS | 25. 5 ft | 7. 80 m |
| HEIGHT | 12. 43 ft | 3. 79 m |
| WEIGHT | 13 007 lb (min)/ 23 809 lb (max) | 5 900 kg (min)/ 10 800 kg (max) |
| MAX WEIGHT FOR CATAPULTING | 23 809 lb | 10 800 kg |
| MAX WEIGHT FOR DECK LANDING | 17 196 lb | 7 800 kg |
| WING AREA | 305 ft² | 28. 40 m² |
| MAX SPEED | Mach 1,3 | Mach 1,3 |
| CLIMB RATE | 328 ft/ s | 100 m/ s |
| APPROACH SPEED AT 7.8 t | 135 kts | 135 kts |
| CEILING | 45 000 ft | 13 716 m |
| COMBAT RANGE AT LOW ALTITUDE | 323 nm | 600 km |
| FERRYING RANGE WITH ADDITIONAL TANKS | 900 nm | 1 666 km |
| CONSUMPTION AT 40,000 FT | 1 851 lb/ h | 840 kg/ h |
| THRUST | 9 920 lb | 4 500 kg |
WEAPONS
ÉTENDARD IVM/P/PM :
-Sidewinder AIM-9B air-to-air short range missile. With a range of 1,100 m, the Sidewinder was the standard weapon of the Étendard IVM in air defence missions.



-250 kg & 400 kg bombs.
-LR60 (6 x T.10) & LR150 (18 x 68 mm) rocket-launchers.



-Nord AS-20 air-to-surface. Mainly used in training.



-Nord AS-30 air-to-surface missile. Successor of the AS-20, with a range between 3,000 and 7,000 m, the missile can hit targets up to 10,000m away . Carrier of a high destructive charge, the AS-30 can be launched at any altitude, in horizontal flight or dive, while the pilot ensure the view guidance with joystick linked to a remote control.

-A Douglas buddy-buddy refuelling pod. Note that only Étendard IVP and IVM No5, 50 & following ones are able to carry it. With a weight of 390 kg, it can transfer 110 l (90 kg) de kerosene thanks to 13m pliable probe ended with a drogue assembled on a ball-and-socket joint (folded from the inside, open while out of the pod). It also includes a spool, a fuel pump and a hydraulic pump (providing the necessary energy to run the instruments in the pod) put into action by the propeller mounted in the head - the propeller being driven into rotation by the airstream.
When it is fitted, the use of ventral cameras is impossible. In the French Naval Aviation, only Étendard IVM/P/PMs, F-8E/P Crusaders and Super-Etendards are refuelable.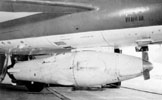 | | |
| --- | --- |
| Capacities & missions | Armaments |
| 30 mm DEFA cannons (122 rounds per weapon) | 2 (none for Étendard IVP) |
| Payload in combat with internal fultank | 1 300 kg |
| Air-to-air missile | 2 x AIM-9B |
| Bombs | 2 x 250 kg ou 2 x 400 kg |
| Rocket-launchers | 2 x LR60 (6xT.10) ou 2 x LR150 (18x68 mm) |
| Air-to-surface missile | 2 x Nord AS-20 then 2 x Nord AS-30 |
Capacities & missions

Armaments

Douglas buddy-buddy refuelling pod

1

Pendular fuel tanks

2 x 625 l

Air cover

2 x AIM-9B
2 x 625 l
(0,50 h)

HI-LO-HI strike

2 x 250 kg
2 x 625 l
(300 NM)

HI-LO-HI warship strike

2 x AS-30
(175 NM)
1 x AS-30
1 x 625 l
(250 NM)

Reconnaissance pod

1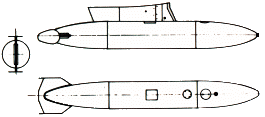 ÉTENDARD IVM :
-Two DEFA de 30 mm (122 rounds/ weapon) cannons.
-BW warning receiver. Fitted on few Étendard IVMs.
ÉTENDARD IVP/PM :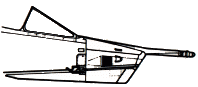 -A removable reconnaissance pod fitted under the fuselage, between the two doors of the CER 10PR photo under-frame. It can carry three OMERA 31 cameras for vertical and oblique views in addition to the photographic equipment mounted in the nose of the aircraft (three cameras).

| | |
| --- | --- |
| | The OMERA 31s can be equipped with 100, 200 and 600mm lenses. 47mm lenses used at the beginning of the career of IVPs were retired in the 70-80's. |
-A CER 10PR photo under-frame with OMERA 31 F600 cameras covering a 30° angle. The body of each OMERA contains a 30m magazine i.e. 230 pictures in 114x114 format.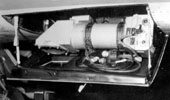 -Electromagnetic chaffs.
-Lepus illuminating bomblet (from 1972).
-Illuminating cartridges. Replaced by the Lepus in 1972 because it was too dangerous to use.
-BW warning receiver (not fitted on Étendard IVPMs).
ELECTRONIC EQUIPMENT
-A Dassault Electronique Aïda 2 navigation radar.
-A SAAB AX 26 bombing computer.
MOTORIZATION
A SNECMA Atar 8C turbojet with autonomous starter and regulation by nozzles with moveable eyelids. This is an afterburner-lacking version of the Mirage III's Atar 9C. This engine has a thrust of 4,500 kg. Few Étendards were equipped by an Atar 8B with compressed air starter.


[ÉTENDARD IVM/P/PM] [AIRCRAFT MENU] [MAIN MENU] [HOME]
©French Fleet Air Arm. www.ffaa.net. All rights reserved.