H-21C WORK HORSE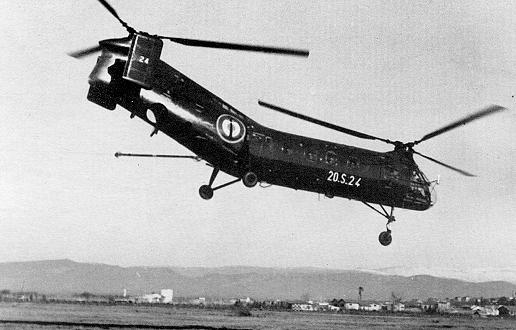 H-21C belonging to the 20S squadron. (CEPA)
TRANSPORT, ASSAULT AND RESCUE HELICOPTER
A vastly improved version of the metal-framed and fabric-covered Piasecki HRP-1 'Flying Banana' of the late 1940s, the HRP-2 was the result of a US Navy order in 1948 for a replacement design featuring an all-metal fuselage. The new helicopter was a totally revised design which saw the cockpit altered to seat the two-man crew side-by-side rather than tandem, as well as the diameter (and length) of the fuselage appreciably increased. The smoother exterior finish made possible by the metal skinning also improved the helicopter's flight performance. Despite these modifications, the Navy ordered only a handful of HRP-2s, and it was left to firstly the USAF, who acquired 18 YH-21s, followed by 38 H-21A Work Horses and 163 H-21Bs (with more powerful engines), and the Army, with a massive purchase of 334 H-21C Shawness, to make the most of this pioneering Piasecki design. The Air Force used a vast number of their H-21s in the utility role over the frozen wastes of Alaska in support of various bases and radar sites being built in the area, whilst the Army sent 33 H-21Cs to South Vietnam as early as December 1961, making the Shawnee one of the first US military aircraft to arrive in-theatre. More than 90 of these obsolescent utility helicopters would eventually see action over Vietnam up to their final retirement in 1969. As with the smaller HUP, several H-21s have recently been restored to flying condition in the USA. It made its first flight in October 1948.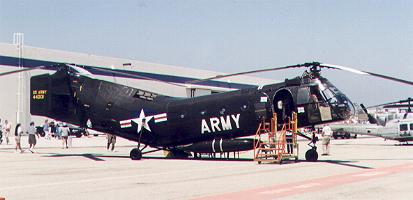 A still-flying H-21B wearing US Army schemes seen at Torrance Airshow' 98. (Damian Allard)

France purchased 13 H-21Cs equipped with one Wright of 1 425 hp in 1956. They were used by the 31Funtil March 1960 and the 20S squadron. They operated from CV Arromanches, CVL Lafayette, CVL Bois-Belleau and CVE Dixmude, providing various duties such as transport, assault and rescue.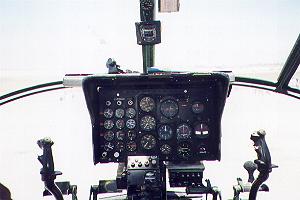 Cockpit of the H-21 Work Horse. (Damian Allard)
Specifications :
| | | |
| --- | --- | --- |
| / | (US) | (FR) |
| LENGTH | 52 ft 4 in | 15. 98 m |
| ROTOR DIAMETER | 44 ft 6 in | 13. 56 m |
| HEIGHT | 15 ft 1 in | 4. 6 m |
| WEIGHTS | 8 700 lb (empty)/ 13 500 lb (full) | 3 946 kg (empty)/ 6 124 kg (full) |
| MAX SPEED | 130 mph | 209 km/ h |
| RANGE | 300 miles | 482 km |
| OUTPUT | 1 425 hp | 1 062 kW |
[H-21C's PICTURES] [
HELICOPTERS MENU
] [
MAIN MENU
] [
HOME
]